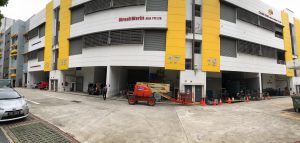 CircuitWorks Asia Pte Ltd was established in 1999. We specialized in providing photoresist dryfilms, chemical products and machineries to the Printed Circuit Board, Flexible Printed Circuits, Lead Frame, Semi Con & Chemical Milling industries.
We have demonstrated to be reliable partners in the business with all of our strategic principal suppliers located in Asia and Europe.
Our team strived to provide the best technical support and consultations to our customers. We are flexible and focused to meet customer's needs and to render prompt and effective responses.
Our extensive regional coverage and contacts include Asia, Europe and Middle East.
In 2001, CircuitWorks (Suzhou) Specialty Chemical Co was set up to meet the demands of materials and chemistry in the PCB & FPC surface finishing and plating industries. Together with our partners, we bring forth products that provides economies of scales with high quality and reliability.
Strategically located in the Suzhou Industrial Park, it has provided accessability to the many multi national and local PCB companies.
Today, we have added many specialty chemical products to meet the ever growing demand for new frontiers in chemical development for the PCB and FPC industry.
In Year 2012, we set up Circuitworks Technologies Sdn Bhd in Iskandar Johor of Malaysia. We intend to provide better service and logistic support to our customers in the SE Asia region