Develop-Etch-Strip / Dryfilm Strip – Etch – Tin Strip Process
| | | |
| --- | --- | --- |
| PRODUCT | CODE | DESCRIPTION |
| Dryfilm Developer | DEV668 | An effective developing solution for dryfilm |
| Dryfilm Stripper | 6608 | A proprietary formulation for fast and effective stripping |
| Anti-foam | NF388 | Reduces foam in developing and stripping baths |
| Etchant Oxidizer | SC35/CE49 | NaClO3 based oxidizer for CuCl2 etching solution |
| Etchant Alkaline | 5600 | Fineline etchant alkaline based etching solution |
| Solder Stripper | 4600 | Nitric acid based solder stripper for effective and fast stripping |
| | | |
| --- | --- | --- |
| PRODUCT | CODE | DESCRIPTION |
| MicroEtch Cleaner | CE831 | Excellent for removing tarnish and oxidation from copper surface |
| Acid Cleaner (Spray) | SC726 | Removal of copper oxides and organic residues from copper surface |
| Acid Cleaner (Dip) | SC728 | Removal of copper oxides and organic residues from copper surface |
| Alkaline Cleaner | Cu803 | Formulated as copper surface pre-cleaner prior to copper plating. |
| Copper Etch | CE830/CE865 | Oxy-sulfate microetch on copper surface removal of 1 micron |
| AntiTarnish (neutral) | Cu822 | Provides antitarnish finishing after PTH (Neutral) |
| AntiTarnish (acid) | Cu823 | Provides antitarnish finishing after PTH (Acidic) |
DESMEAR / PTH / COPPER PLATING
PRODUCT
CODE
PROCESS
Solvent Sweller
SW200
DESMEAR
Neutralizer
NE300
Conditioner
CD135
PTH
Pre-Dip
PD145
Activator
AT146
Accelerator
AC148
Electroless Copper
Cu150M
Cu150A
Cu150B
Copper Plating
Cu400EX/ Cu200EX/400VCP
Copper Plating
Tin Plating
SN800EX/ SN820EX
Tin Plating
| | |
| --- | --- |
| PRODUCT CODE | DESCRIPTION |
| Solder Assist Fluid 5016 | Use as solder blanket oil for horizontal hot air process |
| Flux 900 | Heat stable water-soluble flux specifically for use in a vertical hot air levelling process |
PRODUCT
CODE
PROCESS
Acid Cleaner
SC726
OSP
OSP
YL-DN-116A
Acid Cleaner
KG511
ENIG
Activator
KG529 / KG527
Electroless Nickel
KG535 / KG531
Immersion Gold
KG545Y
Desmear Process Sequence
Solvent Swell SW200
Double Rinse
Permanganate
Triple Rinse
Neutraliser NE300
Double Rinse
PTH process sequence
Clean/ Condition CD135
Hot water Rinse
Double Rinse
Micro-etching
Double Rinse
Pre-Dip PD145
Sn/Pd Activator AT146
Accelerator AC148
Double Rinse
Accelerator AC148
Double Rinse
Electroless Copper CU150M/A/B
Double Rinse
ACID COPPER PLATING : CUBOARD 400 EX
1. Operate at wide ranging current densities.
2. Excellent throwing power for high aspect ratios.
3. Excellent physical properties.
4. Consistent quality and long operating bath life.
5. Uniform plating distribution.
6. Low copper additive consumption and operating costs.
7. Excellent plating efficiencies with reduced copper anode consumption.
8. Very low anode sludge formation.
9. Ease of use with single component.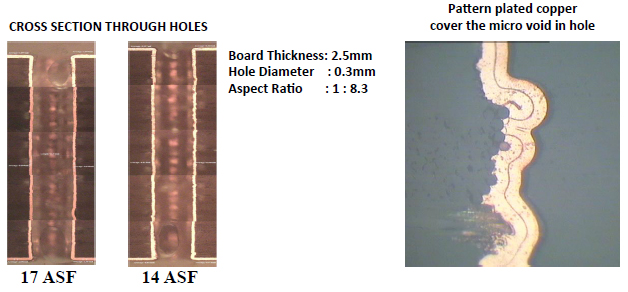 Organic Solderability Preservative [YL-DN-116A]
The OSP product YL-DN-116HT is compatible for dense and fine pitch PCB
and meets the requirement of lead free assembly process. It provides
excellent solderability, simple process flow and low operating costs
Acid Cleaner SC726
Rinse
Micro Etch
Rinse
Acid Dip
DI Water Rinse
OSP YL-DN-116A
DI Water Rinse
Dry
Electroless-Nickel-Immersion-Gold
Acid Cleaner KG511
Micro Etch
Acid Pre-Dip
AcRvator KG529/ KG527
Acid Post Dip
Electroless Nickel KG535 / KG531
Immersion Gold KG545Y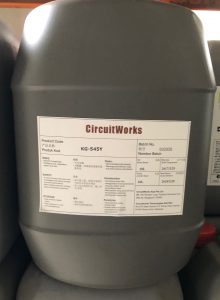 METAL SOLDERABILITY PRESERVATIVE